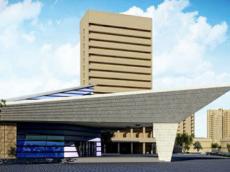 Baku Metro plans to completely finish the reconstruction of the "28 May" station and its main entrance in March of 2014.  
Baku Metro informed on the matter.  
The main entrance and exit of the station were closed on July in connection with the work on its reconstruction and modernization. Baku Metro has opened the main exit of "28 May" station since the beginning of the academic year (from September 16).  
"Major part of the work has already been done, and it is nearing the full completion. The work will completely be finished in early 2014, most probably, before the Novruz holiday (March 20-21) - Baku Metro noted.
Passangers have been using the secondary entrance locating on Salatin Askerova street and entrance through "Jafar Jabbarli" station until the main entrance will be opened.  

/Trend/