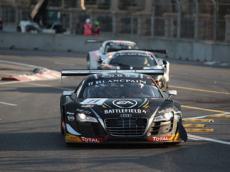 Britain-based "Huffington Post" news portal of US has issued an article on Azerbaijan`s development titled "Planet Appetite: Baku FIA GT World Challenge in Azerbaijan" by writer, photographer and filmmaker Rupert Parker.
The article reads: "At the crossroads of East and West, Azerbaijan has taken advantage of its oil and is transforming its capital Baku into an attractive modern city, a great venue for a motor race. At around six hours flying time from London, Baku is not quite a weekend destination but, add a couple of days, and it becomes very attractive indeed. There's a spanking new airport, looking like a giant crystal goldfish bowl, and on the way into town the buildings lining the wide boulevards are all lit up. You get the sense that they're putting on a show and it's no accident that the Eurovision Song Contest was hosted here last year. I'm in town for the final of the FIA GT Series Championship, another way of raising the profile of Baku, particularly as the race will take place through the city streets along the Caspian Sea. Next day I'm overwhelmed by a skyline of thrusting high rises, in particular the iconic Flame Towers which dominate the view from every angle. I'm on my way to visit the old city, a stop on the ancient Silk Road, hidden inside medieval walls, on the shores of the Caspian. Its narrow winding streets and mosques and monuments are UNESCO listed, although much has been reconstructed in recent years. Pride of place is the Maiden's Tower, right next to the sea and the place where rich nobles stored their valuables in times of war. It's never been invaded, hence its name, and there's a great view from the top. Along the seafront runs the Baku Boulevard, a wide space planted with palm trees and home to Soviet era cafes complete with backgammon players. Pleasure boats pull up here and you can take a cruise, although the waters are murky with oil. Of course it was revenue from this black gold which financed the city's first architectural boom in the late 19th century. Grand buildings, known as Baku Gothic, sprung up all over and include what is now the Azerbaijan History Museum and the Baku Municipal Duma, both designed by Polish architect Joseph Goslavsky. A prime example of Soviet architecture is Government House, started in 1938 and dominating the Boulevard like a majestic wedding cake. Azerbaijan is known as the land of fire because of its oil and gas and a few kilometres outside town is the Burning Mountain. It sounds grander than it is but gas has been coming out from the base of the rock and burning since before the time of Herodotus. Far better is the House of Fire, a temple constructed by worshippers of Zoroaster around the 13th century. The central building, complete with a central burning flame and four chimneys is surrounded by monastic cells, where they've rather imaginatively erected mannequins doing what the monks are supposed to do. Of course the people are very dark, supposedly blackened by the fire, although these days the flames are provided by gas. Perhaps the most interesting excursion is to the Gobustan rock carvings and the nearby mud volcanoes of Dashgil. You cross the railway tracks and climb up a dirt road to a deserted post-apocalyptic landscape. All is quiet apart from the belching and farting of volcanic mud pools bubbling out of cone shaped mounds. Each has a constant stream of mud running down the sides and, just like lava, it solidifies as it flows. Beware that when it rains this area turns into deep mire and is completely inaccessible. Gobustan is home to over 4000 rock carvings dating from 6000 BC which depict people hunting, boating and fishing and even dancing at the Stone Age disco. The locals lived in cave shelters and, when explorer Thor Heyerdahl saw depictions of cane boats, he decided that the Vikings came from here. Apparently there's a Norse saga about Odin arriving on a folding ship from a far land called Ahser, so here was the proof he needed.
So race day dawns bright and sunny and, as I make my way to the pits, I realise the enormity of what is going on - apparently it's taken three 747's to transport cars and gear plus 15 vintage F1 cars. Crew and journalists number 750, flown in from Paris, London and Dusseldorf, with more than 50,000 spectators expected. The 4 km urban circuit runs the length of the seashore before doubling back to the start and of course all roads have been cordoned off. It makes for a stunning spectacle and the Belgian Audi Club Team WRT are the winners as Stephane Ortelli (MCO) and Laurens Vanthoor (BEL) take the 2013 FIA GT Series Pro Cup drivers title. I have a feeling I'm going to be coming back to Azerbaijan as I'd love to get out of Baku and explore the rest of the country."
The article is available at http://www.huffingtonpost.co.uk/rupert-parker/planet-appetite-baku-fia-gt-world-challenge-in-azerbaijan_b_4372390.html?utm_hp_ref=tw.