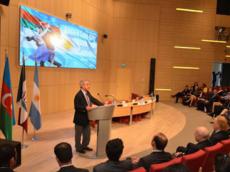 By AzerNews
Azerbaijan Diplomatic Academy (ADA) held an event "Day of Argentina" on November 1.
The event, which was dedicated to the 20th anniversary of establishment of the diplomatic cooperation between Azerbaijan and Argentina, brought together Principal of the ADA, Deputy Foreign Minister Hafiz Pashayev, Azerbaijani Ambassador to Argentina Mammad Ahmadzade, Argentina's Ambassador to Azerbaijan Carlos Riva, Azerbaijani MP Asim Mollazade and others.
Welcoming the guests, Pashayev said that the event has a great importance for strengthening of the diplomatic relations between the two countries in the field of culture, including relations in the field of education.
During the event, ADA and two Argentine universities, the University of Buenos Aires and the Rosario National University, signed a memorandum of understanding, according to which was reached an agreement on the implementation of academic and cultural exchange programs, organization of scientific events and conferences, including the sharing of research.
Diplomatic relations between Azerbaijan and Argentina were established in 1993. In 2011, Azerbaijan's friendship groups were established at the Senate of Argentina's Congress and Argentine Chamber of Deputies.