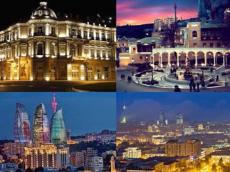 By AzerNews
The Greater Baku Regional Development Plan for the period up to 2030 will be completed by the end of this year, Head of International Relations and Information Department of the State Committee for Urban Planning and Architecture Jahangir Gojayev told journalists.
"Currently, the work on the plan is under way," he said. "This has been included in the State program of the socio-economic development of the regions in 2009-2013. We are conducting studies and the plan will be developed by the end of the year, and then we will submit it for approval to the relevant authorities."
Gojayev said that this is the first time such a project has been taken up in Azerbaijan.
"Until now, there was no master plans for separate regions; but time has shown us that the Absheron Peninsula firstly requires a comprehensive approach, because the socio-economic problems of Baku have got rather complicated due to its nearby cities of Sumgait and Khyrdalan," Gojayev said.
According to Gojayev, Azerbaijan has a number of architects, but there is a shortage of qualified professionals in the field of urban planning.
"For this purpose a tender was held, following which a number of international companies from the U.S., Australia and other countries got involved. Also a company from Spain which will deal with the environmental aspects of the project has been involved," he said.
According to the head of the department, the issue of ecology has become the most important one for all major cities of the world, and Baku is not an exception. Talking about air pollution, and other factors that leave a negative effect on the ecological situation of the city, Gojayev said that the invited companies will prepare a comprehensive package of measures aimed at combating and eliminating these negative factors, as well as making plans for the general improvement and landscaping of the city.
Azerbaijan and the World Bank signed a loan agreement to develop the Greater Baku Regional Development Plan in 2007. The plan has been developed through coordination with Baku State Design Institute.
According to preliminary estimates, the average cost of the Greater Baku Regional Development Plan may reach 4-5 billion manats (up to over $6.3 billion).
Under the Plan, the streets and roads of the city will increase by hundreds of kilometers, the number of polluted lakes will be significantly reduced, and parks and public gardens will be created in an area of 34,000 hectares.
The Plan envisions the future development of the city with its 11 surrounding areas, Sumgayit, the country's third largest city, and the entire Absheron Peninsula till 2030.