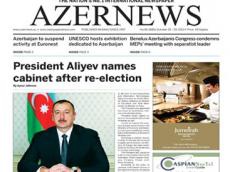 A new print edition of the AZERNEWS online newspaper was released on October 25.
The new edition includes articles about Azerbaijan`s outlining energy sector priorities for five years, Azerbaijan's promotion through a new cultural project in Italy, UNESCO`s hosting an exhibition dedicated to Azerbaijan, possible construction of more hybrid power plants in the country, Azerbaijan`s contribution to making a film over FIFA anniversary, a large number of twins born in Azerbaijan, a successful performance of Azerbaijani athletes, etc.
AZERNEWS is an associate member of the World Association of Newspapers and News Publishers (WAN-IFRA).
The online newspaper is available at
www.azernews.az.