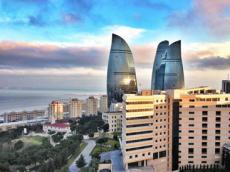 The National Hydrometeorology Department of the Ministry of Ecology and Natural Resources reports that the weather is going to be peculiar with changeable cloudiness and intermittent overcast in Baku and Absheron peninsula on October 24. No precipitation expected. North-western wind to blow and followed by infrequently strengthening south-western wind in the noon. The temperature will be +8-10C at night and +15-20C in the noon.
While Lankaran-Astara zone is forecasted to have rainy weather, the main course of the weather will be dry in the main and misty in some places in the morning. The temperature will be +5-10C at night and +20-25C in the afternoon, while from -2C to +3C in mountains at night and +12-17C in the noon.
The Khazri wind intensifying against the backdrop of atmospheric pressure's considerable fall can make meteosensitive people feel inconvenient. Nevertheless, weak and gentle fluctuation of the meteorological determinants will be suitable.

/Eco.Gov.Az/