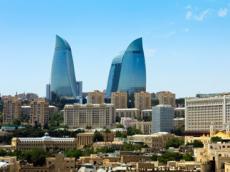 The 7th International Conference on Application of Information and Communication Technologies kicked off in Azerbaijan`s capital on October 24.
AICT2013 is co-organized by Azerbaijan`s Ministry of Communication and Information Technologies, Education Ministry , Qafqaz University, Baku State University, Lomonosov Moscow State University Baku branch, Institute of Information Technology, and Azerbaijan Technical University.
Speaking at the event, rector of the Baku State University, Academician Abel Maharramov said 2013 was declared the Year of Information Communication Technologies in Azerbaijan.
He praised what the Azerbaijani government had been doing to develop the ICT sector in the country.
Maharramov hailed the launch of Azerbaijan`s first communications satellite as "a remarkable event", adding it will strengthen Azerbaijan`s international image as an ICT country.
"Azerbaijan is the first and only country in the South Caucasus that adopted the strategy of transition to an information society. We top CIS countries in terms of the number of internet users, while rank second on average in the world," he said.
Other speakers in the event included Rector of Qafqaz University Ahmet Sanic, rector of Azerbaijan Technical University Havar Mammadov, and official at the ministries of Education and Information and Communication Technologies.
The AICT2013 International Conference brings together business people, researchers, scientists, software architects, and industry professionals to discuss innovative ideas and diverse topics on next generation of information technologies and services.

/AzerNews/