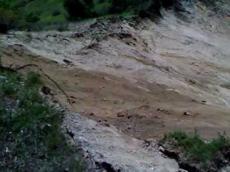 By AzerNews
Flood is a natural phenomenon that often causes heavy civilian casualties. Depending on its magnitude, it can sometimes be disastrous. Its flow can carry away houses, bridges, and trees.
Not only natural but also human factors play an important role in the occurrence of debris inflicted by floods which are generated from rivers in Azerbaijani.
Professor Ramiz Mammadov, the Acting Director of the Geography Institute of the Azerbaijan National Academy of Sciences (ANAS), said that natural forests in the highlands hinder the movement of flood.
Flood can decisively occur because of deforestation in highlands. Poor construction of dams in rivers also increases its currents.
"Dams are built on one side of the river so as to prevent floods from overflowing from sides of rivers. However, this way of construction narrows them. As a result, a large flow of water might pass through a small area over a short period of time. Therefore, the velocity of current of flood gradually increases over time," Mammadov added.
He also says that in order to prevent such cases, it is necessary to consult with experts while designing and constructing dams.
"Most of floods occur in Sheki-Zagatala zone in Azerbaijan. This is due to the topography and climate of this area," he stated.
On the basis of his studies, Mammadov notes that the changing nature of climatic conditions of the Sheki-Zagatala zone during metrological processes, cyclone that are accompanied by heavy showers, and changing pattern of altitude are the causes of floods.
The probability of occurrence of floods is low in flat regions, but high in sloping areas.
Nevertheless, it is possible to take some preventive measures against floods. It wise to develop existing forests, to plant trees in empty areas, and to build water storage, dams, water channels, and other thing of the same nature.