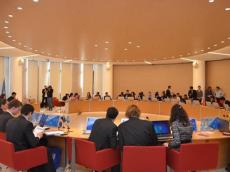 By AzerNews
The first International Model UN Security Council Conference, which started on October 21 in Baku, continues on its third day.
After the two-day pre-conference training workshop the participants started role playing to simulate the UN Security Council at the Azerbaijan Diplomatic Academy (ADA) on October 23.
Welcoming the participants of the conference, ADA Executive Vice Rector Fariz Ismayilzade stressed the importance of the event for Azerbaijan and wished good luck to all the delegates.
In the two-day simulation game, the participants will join the model Security Council debates on cyber security issues, adopt resolutions on an emerged crisis and try to formulate a common framework for its solution.
The premise of the model conference, co-organized by the Azerbaijani Youth and Sports Ministry and UNDP, is the so-called "country Tobango located in Africa" that faces a crisis due to a violation of cyber security. In the simulation it is pretended that civil war in the country has exacerbated due to the leakage of some provisions of an agreed peace plan into the public and Security Council member states are required to find a solution to the crisis.
Just like the actual UN Security Council, this model Council can convene, hold debates and adopt relevant resolutions at any time of the day.
The presidency of the model Security Council is vested in international expert Hannah Moosa.
As a result of the discussions, a final resolution on the issue is expected to be passed and put on voting.
The participants of the conference will be awarded with internationally recognized certificates at the official closing ceremony. Afterwards, an intercultural evening for representatives of countries representing the UN Security Council will be organized.
The country's first International Model UN Security Council conference, being held October 21-25, was organized within the joint project "Youth Participation in Decision Making and Policy Implementation" between the Azerbaijani Youth and Sports Ministry and UNDP.
The conference brings together 45 university students and graduates of 15 states currently serving as members of the UN Security Council, including Azerbaijan.
The simulation is an indicator of successful implementation of the project and it contributes to the development of decision-making capabilities of Azerbaijani youth.