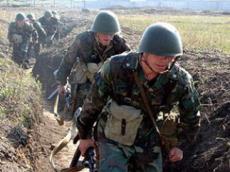 The Azerbaijani Defense Ministry reported that subunits of the Armenian Armed Forces were silenced with a retaliatory fire after they shattered ceasefire with Azerbaijan on October 22-23, AzerTag state news agency reported.
The Armenian Armed Forces started shooting from the nameless hills of Ijevan region and Berkaber village of Armenia at the positions of Azerbaijani Armed Forces in nameless hills and Gizilhacili village of Gazakh region.
The Armenian forces also shot at the positions of Azerbaijani Armed Forces from nameless hills of Goranboy region, the Defense Ministry said.
Armenia and Azerbaijan fought a lengthy war that ended with the signing of a fragile ceasefire in 1994. More than 20,000 Azerbaijanis were killed and over 1 million displaced as a result of the large-scale hostilities. Since the war, Armenian armed forces have occupied 20 percent of Azerbaijan's territory, including Nagorno-Karabakh and seven surrounding regions. Armenia continues the occupation in defiance of four UN Security Council resolutions calling for immediate and unconditional withdrawal.
Peace talks brokered by mediators from Russia, France and the U.S. have produced no results so far.

/AzerNews/