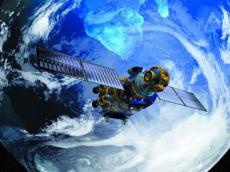 By AzerNews
Resources of the Azerbaijani satellite are used to exchange data between the earthquake prediction monitoring systems and servers of the Institute of Cybernetics of the Azerbaijan National Academy of Sciences, the Institute said.
The first national satellite, Azerspace-1, was launched in February 2013. It covers Eastern Europe, the Caucasus, Central Asia and North Africa. Launching the second satellite is planned for 2016, which will provide greater stability of telecommunication services, along with the expansion of the coverage area.
The data exchange between all the stations is carried out in real time. High-frequency satellite channels are used for signal transmission, allowing the institution to conduct experiments of a higher and more qualitative level.
Significant support for the project is provided by the Ministry of Communications and Information Technologies, which developed the software for the information exchange system. The system transmits seismic signals directly to the server of the Institute.
There is also a database created to make full use of relevant software, which make possible to conduct experiments. The experiments are carried out according to the results of research stations, capable to detect the beginning of abnormal seismic processes in Azerbaijan and to monitor them.
Experiments are conducted in the inactive oil wells of the Azerbaijani state oil company SOCAR. Currently, Azerbaijan has seven stations capable of detecting these seismic processes. They are located on the Gum island, in Neftchala, Naftalan, Shirvan, and Siyazan regions and one station is located in the Sadarak region of Nakhchivan Autonomous Republic.
The monitoring system is based on analyzing the noises, which allows warning 5-20 hours in advance of earthquakes occurring within a radius of 300-400 kilometers. Experiments are currently underway to locate the sources of earthquakes.
Recently, short-term observations revealed a seismic activity increase in different regions of Azerbaijan. However, according to the scientists, in general, devastating earthquakes are not expected.
The country places a special emphasis on the development of seismic experience and installation of seismic stations.
Moreover, Azerbaijan has scheduled launching a low-orbit satellite in 2015. The low-orbit satellite is more mobile, which will provide receiving information on emergencies, natural disasters, fires, floods in Azerbaijan and abroad.
Currently, Azerbaijani space agency Azercosmos is working to establish a cross-functional ground station, which will also be used to receive satellite images from other satellites flying over the region. Work on the station is expected to end by the end of 2013.