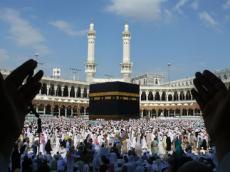 The flight of charter planes of Azerbaijani pilgrims started at Baku Heydar Aliyev international airport today at 08:00.
Press service of the Caucasus Muslim Board told that two flights will be operated on October 3 and the next flight will be at 09.20 am.
The flights from Azerbaijan will last till October 8. This year, pilgrims can travel only by plane due to Syrian developments. Hajj flights will operated by France Air company. Pilgrims were divided into 80 groups. Every group consists of 45-55 people. One flight will be operated on October 3. Following this, three flights will be operated every day. The number of Azerbaijani pilgrims is about 3600.
The Caucasian Muslims Board started the document admission for Hajj in Azerbaijan on February 1. Hajj pilgrimage is carried out only by the Caucasian Muslims Board in Azerbaijan. The prices of Hajj pilgrimage is AZN 3250 for the hotel with weak conditions, where meals are served twice a day, AZN 4100 for the hotel with better conditions, where various kinds of meals are served.

/APA/