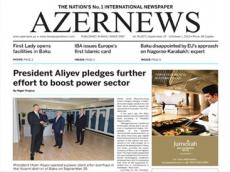 A new print edition of the AZERNEWS online newspaper was published on September 27.
The new issue includes articles about the Caspian Forum held in New York,
the French ambassador's statement regarding persons blacklisted by the Azerbaijani government, the planned issuance of electronic money in Azerbaijan, the upcoming exhibition of famous
Azerbaijani painter Tahir Salahov, the arrivial of Moldovan artists in Baku, etc.
AZERNEWS is an associate member of the World Association of Newspapers and News Publishers (WAN-IFRA).
The online newspaper is available at
www.azernews.az.