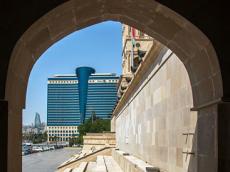 Changeable cloudy and dry weather that will be gloomy towards evening is what the National Hydrometeorology Department of the Ministry of Ecology and Natural Resources forecasts In Baku and Absheron peninsula on September 26. Strong western, north-western wind to blow and relent in the evening.
The temperature will be +17-19C at night and +19-24 in the noon.
Weather is going to be mainly dry in the regions of Azerbaijan. Interruptedly intensifying western wind to blow.
The temperature will be  +15-20C at night, +25-30C in the afternoon, while +5-10C in mountains at night and +16-21 in the afternoon.
/Eco.Gov.Az/