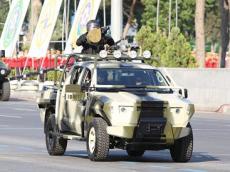 Specialists of Azerbaijan's Ministry of Defense Industry have started producing "Agrab" (Scorpion) anti-tank vehicle at the base of Gurza patrol car.
The armament of the complex contains 7.62 mm caliber machine-gun and SKIF and Spike anti-tank guided missiles.
The vehicle with high carrying capacity has been produced at the base of Toyota Hillux 12 and provides an effective fight against tanks in various landscapes.
"Agrab" anti-tank vehicle, which was demonstrated for the first time in Baku parade on June 26, will be also demonstrated at the exhibition "Azerbaijan – 10 years".
Gurza patrol car exhibited early in the year has modification named "Babir" (Leopard) equipped with AGS-17 automatic grenade launcher.
***
12:00
The engineers of Azerbaijani Ministry of Defense Industry have created a new combat reconnaissance vehicle.
The vehicle created on the chassis of BRDM-2 reconnaissance vehicle significantly differs from BRDM vehicles for its exterior design, armament, as well as performance.
The vehicle, experimental sample of which will be displayed at "Azerbaijan 10 years" exhibition has already taken tests of engine, movement and other.
The experts say that though some technologies on the vehicle were purchased from abroad, it is a national project by 100 percent in terms of the design and creation.
A new vehicle differs from its foreign analogues in high protection against mines, explosions and bullets. B-32 armor piercing bullets
A control tower created by the local experts has been installed on the vehicle. The tower was armed with 23mm GSh-23 twin-barrel cannon, 7.62 mm PKT machine gun, 30 mm AGS-17 grenade, 5 S-8 (S-5) rocket launchers and others. The vehicle also has observation systems for surveillance at nights, daytime and in any condition. Cameras have been installed on the front, rear, upper parts and sides of the vehicle.

/APA/