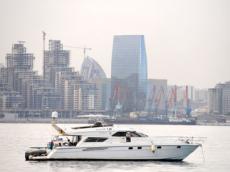 The National Hydrometeorology Department of the Ministry of Ecology and Natural Resources forecasts weather to be changeable cloudy and rainless in the main in Baku and Absheron peninsula on September 18. Soft southern wind to be followed by north-western blow.
The temperature will be +17-21C at night and +25-30 in the noon.
Lightning and short-term rain to be seen in some regions of Azerbaijan against the backdrop of mainly rainless weather on Sept. 17. Morning is going to misty in separate regions. Interruptedly strengthening western wind to blow.
The temperature will be  +16-21C at night, +28-32C in the afternoon, while +9-14C in mountains at night and +20-24 in the afternoon.
/Eco.Gov.Az/