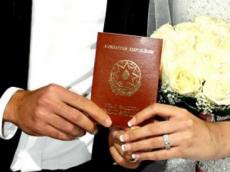 By AzerNews
The types of mandatory medical tests that will be necessary for people getting married have been defined in Azerbaijan.
The issue will be raised at the meetings of the parliamentary committee on social policy at the autumn session of parliament, deputy chairman of the committee Musa Guliyev said.
Guliyev said the issue would also be reflected in the law "On protection of public health."
He noted that during the compulsory medical examination people should be tested for diseases such as thalassemia, hemophilia, HIV/AIDS and hepatitis C.
According to him, a mandatory medical certificate must be provided before marriage.
"Over the last few years, the press and the Health Ministry in Azerbaijan have conducted awareness work in this direction. It is now the time to achieve positive results in this work. Such work is done in all developed countries, and positive results have already been achieved in this area," Guliyev said.
Guliyev also touched upon the issue of liability of those conducting such medical tests.
"Persons with medical examination results of people getting married must keep such information confidential. If this information is disclosed they will be held accountable under the law," he said.
Marriage is a very important step and people should be more responsible in this matter. Medical checkups at work have become something usual for everyone, but the health of a new family is more valuable than work.
There are a number of diseases that spread because of incompatibility of partners, which can be avoided with medical help. Many countries including France, some countries in the Americas, Russia, and United Arab Emirates, use mandatory or voluntary medical tests for marriages.
In Azerbaijan, a number of genetic diseases occur in different regions of the country with varying frequency because of many factors, including kinship marriages.
The most common diseases in Azerbaijan are thalassemia and hemophilia. Azerbaijan ranks fourth in the world on the spread of thalassemia. Researches show that 8 percent of Azerbaijanis are carriers of the thalassemia gene.
Genetic diseases occur in families where both parents are carriers of the same deleterious gene, which makes premarital medical testing an issue of vital importance. Healthy families mean a healthy generation and bright future of any country.