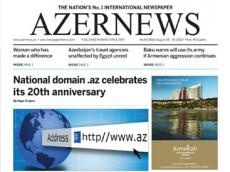 The statistical data shows the baby boom in Azerbaijan. In the first half of 2013, about 83,000 children were born.
Generally the demographic situation is always an accurate reflection of what is happening in the country. Any crisis causes a chain reaction, which affects different spheres of the internal life of the state. Consequently, demographic stability in the country is linked to internal stability and prosperity.
Read more about it in AZERNEWS online newspaper's print edition published on Aug.28.
Also, in the new edition you can read articles about the fourth meeting of the Azerbaijan State Commission for European Integration, effects of the events in Egypt to Azerbaijan's travel agencies, the volume of flared associated gas at the Chirag field, the archaeological research in Azerbaijan, preparation of the second volume of the "Red Book", the damage caused to Azerbaijan by the Armenian aggression, constriction of the Olympic stadium in Baku, etc.
Moreover, AZERNEWS weekly columnist Scott Fenwick will tell about Sport as part of a healthy lifestyle.
AZERNEWS is an associate member of the World Association of Newspapers and News Publishers (WAN-IFRA).
The online newspaper is available at
www.azernews.az.