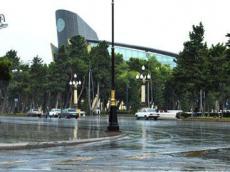 The National Hydrometeorology Department of the Ministry of Ecology and Natural Resources informs that the weather is going to be cloudy and intermittently rainy, while variable nebulous in the day's second half. The speed of the northern wind will be 10-15 m/sec, 18-20 m/sec interruptedly at night and in the morning, and 8-13 m/sec in the afternoon.
The temperature will be +4-7C at night, +9-14C in the afternoon, while  up to +16C in some places.
As to the regions of Azerbaijan , weather is expected to be infrequently rainy, while rain is going to gradually stop beginning from western regions. Mild western wind will blow.
The temperature will be  +4-8C at night, +14-19C,  while from -2C to +3C in mountains at night, +9-14 in the afternoon.
Normal daily course of meteorological determinants until March 21 is deemed suitable for most of meteosensitive people.
/eco.gov.az/