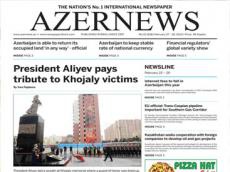 Azerbaijan drafts new bill on radiation safety
Azerbaijan keeps the issues of radiation safety in spotlight and has drafted new bill on radiation safety. Following grave nuclear explosions nuclear and radiation safety issues attract increased attention around the world. Read more about it in AZERNEWS online newspaper's print edition published on February 27.
Also, in the new edition you can read articles about worldwide commemoration of Khojaly victims, to be held in Azerbaijan, Azerbaijan's keeping its fiscal policy stable and the Foreign Ministry's position about White House official response to the petitions on the Nagorno-Karabakh conflict and Khojaly tragedy, posted on its website.    
The readers also can get useful advice for Beach body preparation by AZERNEWS weekly columnist Scott Fenwick.
AZERNEWS is an associate member of the World Association of Newspapers and News Publishers (WAN-IFRA).
The online newspaper is available at www.azernews.az.