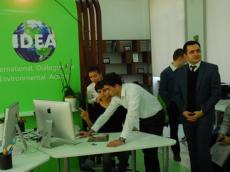 PwC Talents Club, a project of PwC Azerbaijan, in cooperation with the IDEA - International Dialogue for Environmental Action has held the "Ideas for IDEA" project contest in IDEA Resource Center at the Academy of Public Administration.
This is first ever unique initiative brings together the key stakeholders-youth, civil society and private sector to find the best, sustainable, interactive, dynamic and cost effective methods of promoting the ideas for clean and safe life. This project allows young, enthusiastic, and talented members of the PwC Talents Club demonstrate how young people, students and society in general can act socially responsible, help preserving environment and be the agents promoting safe, healthy and green future.
PwC Talents Club is a free of charge student outreach program that brings most talented university students together under PwC`s umbrella and equips them with the "business toolkit" knowledge to be applied in the real business situations in private and public sector. This program aims at identifying the best talents eager to develop, improve, build on capacity and become more competitive from the very beginning of their professional careers at the local and international markets.
PwC Talents Club provides a valuable opportunity to build your business and social interaction skills in series of interactive lessons from the PwC professionals and social events organized for the Club members. The lessons will cover the the following topics: 1) What is Consulting? 2) What is Auditing? 3) Essentials of Financial Management 4) International financial reporting standards 5) Taxation 6) Business/report writing 7) Leadership 8) Time management 9) Team building 10) Advanced Excel 11) Effective communication 12) Presentation skills 13) Personal branding, and other essential skills to grow as a successful professional.
International Dialogue for Environmental Action is an international campaign launched by Leyla Aliyeva on July 12, 2011 in Baku. IDEA Projects – both local and international, are aimed at promoting public awareness of environmental issues and encouraging the public to take action.

/AzerTAc/