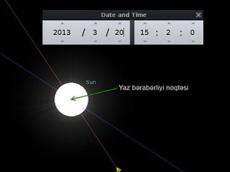 Spring will come to Azerbaijan on March 20, at 15:02 Baku time and 11:02 World time.
Deputy director for scientific investigation at Shamakhi Astrophysical Observatory named after N.Tusi under National Academy of Sciences of Azerbaijan Khidir Mikayilov reported on it.
"The vernal equinox occurs on March 20, when the Sun moves from the Southern to the Northern hemisphere. On this day, the duration of the day and night will be equal, "- said Mikayilov.
/Day.Az/