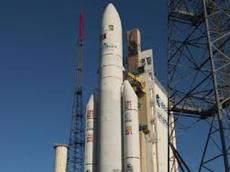 The Arian-5 ECA rocket carrier is ready for launching the Azerbaijani first telecommunications satellite Azerspace/Africasat-1a into orbit, Arianspace (rocket carrier manufacturer) said today.
Arianspace has analyzed the Arian-5 ECA's mission readiness, which will launch two satellites into orbit. Besides the Azerbaijani satellite, Ariane 5 ECA rocket carrier will launch the Spanish telecommunications satellite Amazonas-3, which is located at the upper junction of the rocket carrier, into orbit.
The total capacity of Ariane 5 rocket carrier in this mission will hit 10,350 kilograms, of which around 9,540 kilograms fall to the mass of the two satellites.
This will be Ariane-5 212th liftoff (VA212) from ELA-3 complex at the Guiana Space Center on Thursday, February 8 night at 01:36 - 02:20 Baku time.
The payload of Azerspace/Africasat-1, built on the STAR-2 platform, consists of 36 transponders (24 C-band transponders and a 12 Ku-band range). The frequency band of each transponder is 36 MHz. The satellite weights 3275 kg and it service life in orbit will reach up to 15 years. U.S firm Orbital Sciences Corporation is the Azerspace/Africasat-1a satellite manufacturer.
The satellite will be launched into geostationary orbit at 46 degrees east longitude and is leased from Malaysia's Measat Satellite Systems, owned by the government of Malaysia. Eastern Europe, the Caucasus, Central Asia and North Africa will be included in the service area of Azerspace.
Azerbaijani satellite Azerspace/Africasat-1 is designed to provide digital broadcasting, Internet access, data transmission and the creation of VSAT multiservice networks and governmental communications.
/Trend/