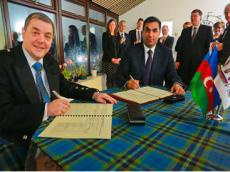 Baku Higher Petroleum School (BHPS) and British Heriot-Watt University have signed an agreement on joint organizing specialists` trainings for 2013-2017 academic years.
The agreement was signed by Baku Higher Petroleum School Rector Elmar Gasimov and Rector of Heriot-Watt University, Steve Chapman.
Under the agreement, organization of trainings in BHPS, control of the educational processes, appraising of knowledges and others will be realized in accordance with the Heriot-Watt University`s demands. The graduates will be presented with both diplomas of Baku Higher Petroleum School and Heriot-Watt University.
Heriot-Watt is one of the oldest higher education institution in the UK, and gained university status by Royal Charter in 1966.
The university originated as the School of Arts of Edinburgh, founded in 1821 as the world's first Mechanics Institute.