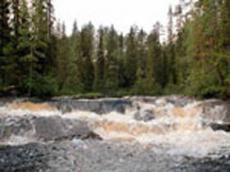 The National Monitoring Department for Environment of the Ministry of Ecology and Natural Resources (MENR) implemented the next monitoring for the third decade of October with the purpose of review of the contamination level of Kura and Aras transboundary rivers, as well as transboundary branches of them.
Water consumption in Kura river held 132 m3/sec in the third decade of October, decreasing 3 m³/sec in relation to the first decade of October. According to the results of the monitoring, the amount of bio substances in Kura river was considerably more than norm due to domestic wastes and slops of industrial enterprises discharged directly to water bodies without purification from the territories of Georgia and Armenia. Phenols and copper compounds as specific contaminants in the water composition exceeded the admissible turbidity level.
In this regard, phenols compounds surpassed the admissible turbidity level quadruple and copper compounds thrice in Shikli-2 settlement, while for three times for both in Aghstafachay, and four times in Agstafachay water reservoir.
According to the outcomes of the monitoring conducted in the third decade of October, phenols compounds outnumbered the admissible turbidity level respectively for three times and copper compounds for four times in Horadiz, while phenols twice and coppers thrice in Bahramtapa settlement and three times for both in I Shahsevan settlement regarding Aras river.
The water oxygen regime fluctuated within the sanitary norm in all settlements containing 5.95-6.24 mg/l.
/eco.gov.az/