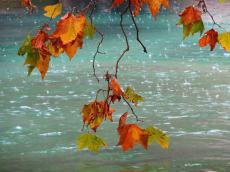 Tomorrow, the weather is predicted to be changeable cloudy, intermittently overcast along with a rain mostly in the evening and at night, and lightning in some places.
In Baku and Absheron peninsula, occasionally strengthening south-western wind will be followed by north-western wind in the second part of the day, while will intensify towards the evening. The temperature is predicted to be +15-20 C at night, +22-27 C in the afternoon.
Lightning and rain is expected in several regions. Western wind will waft, and will intensify off and on. The temperature will be +14-19 C at night, +25-30 C in the afternoon, +6-11 C in mountains at night, and +13-18 C in the afternoon.
According to the National Hydrometeorology Department of the Ministry of Ecology and Natural Resources,  although, the substitution of Gilavar wind with Khazri wind due to the contrasting change of atmospheric pressure during the day and the continuity of strong wind till the evening of October 13 will be unsuitable for meteorologically sensitive people, on October 14 biometeorological determinants are expected to be within the climatic norm and it is deemed suitable for meteorologically sensitive people.
/Today.Az/