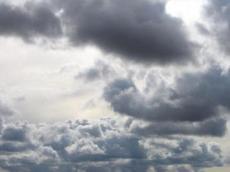 The weather is expected to be variable nebulous, chiefly rainless in Baku and Absheron peninsula tomorrow.
According to the National Hydrometeorology Department of the Ministry of Ecology and Natural Resources, intermittently intensifying south-eastern wind will be followed by north-western wind in the second half of the day, and strengthen towards evening.  The temperature is predicted to be +19-22 C at night, +27-32 C in the afternoon, +24-26 C towards the evening.
On October 9, weather is predicted to be mainly rainless, nevertheless lightning and short-term rain is expected in some mountainous and foothills regions in the evening. Western wind will waft, will intensify off and on in some regions. The temperature will be +17-22 C at night, +27-32 C in the afternoon, +8-13 C in mountains at night, and +20-25 C in the afternoon.
Over the next two days, contrasting change of atmospheric pressure, at the same time windy weather condition in Baku and Absheron peninsula can cause discomfort in people. On October 11-12, oxygen-rich weather condition is deemed suitable for meteorologically sensitive people.
/Today.Az/