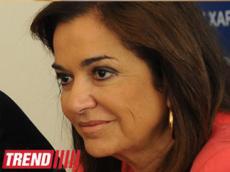 The Baku International Humanitarian Forum is a place for discussion of questions of civilization cooperation, former Greek Foreign Minister Dora Bakoyannis, who is attending the Second Baku International Humanitarian Forum, told Trend on Friday.
"I believe that that this is extremely important forum. I participated in the first forum last year. It is important because this is place for discussion of questions of civilization cooperation. It is difficult questions and now the best people from Europe and throughout the world find these answers," Bakoyannis said.
She also congratulated Azerbaijani President for this initiative.
"It is forum, which today is established in the brainstorm of the international community," Bakoyannis stressed.
Baku International Humanitarian Forum is an authoritative science and political global platform to search answers for global challenges, which were faced by humanity in the 21st Century through the holding of a wide range of dialogues, exchanges of opinions and discussion on the most important issues of humanitarian cooperation.
Co-founders of the forum are President of Azerbaijan Ilham Aliyev and Russian President Vladimir Putin.
Famous state figures, Nobel laureates, 15 ex-presidents, heads of various countries' governments, ministers, well-known figures in the fields of education, science and culture, are attending the event.
The first Baku International Humanitarian Forum under the slogan "XXI century: hopes and challenges" took place in October of 2011.
/
Trend
/