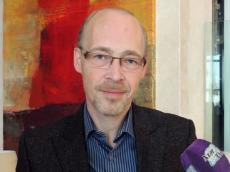 I am happy to be in Azerbaijan. I observe the development in all spheres in your country, Head the International Nobel Foundation Philip Nobel told media in Baku.
Speaking about the importance of the International Forum, which opens in Baku tomorrow, Nobel said over the last years intercultural dialogue has developed considerably.
Noting that this is his second visit to Azerbaijan, Nobel said, "Baku has developed significantly during the last years. And it is important that along with the construction of modern buildings, Baku has preserved its historic character and ancient buildings."
Chairman of the Nobel Foundation also emphasized the high level of Eurovision-2012 song competition which was held in Baku in May.
/
AzerTAc
/