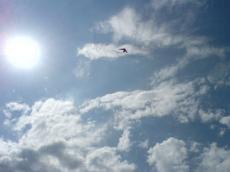 The National Hydrometeorology Department of the Ecology and Natural Resources Ministry reported that over the next two days, the weather temperature to fall by 2-3 C due to blowing of short-term north-west wind.  The temperature will be  22-25 at night and 32- 36 C in Baku and Absheron peninsula in the daytime.
The sea water temperature in the Absheron beaches will be 25-26 in Sumgayit, Novkhani, Pirshagi, Nardaran, Bilgah, Zagulba, 26-27 C in Buzovna, Mardakan, Shuvalan, while 28-29 C in Turkan, Hovsan, Shikh, Sahil.
As for the country's regions, the weather will be chiefly  rainless . The temperature will be 20-25 C at night, 33-38 C in the afternoon, 11-16 C in the mountains at night, and 25-30 C in the afternoon.

/Today.Az/