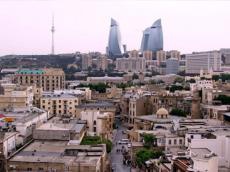 President of Geneva-based Global Ethics.net, the world's biggest digital library on ethics, Chairman of the UN e-Government Commission, Commissioner of the UNESCO/ITU Broadband Commission for Digital Development, ambassador Walter Fust will visit Baku.
APA reports that the memorandum of understanding will be signed between Azerbaijani higher education establishments, National Academy of Sciences and State Committee for Work with Diaspora during Baku visit of Fust.
This visit is being realized with the assistance of the Eurasia Dialogue Center.
Geneva-based Global Ethics.net library has the largest digital library on ethics in the world. This library has 1 mln documents, 1,029.081 articles on alliance of civilizations, intercultural dialogue, tolerance, religious agreement, 1591 books, including 345 significant books, 340 magazines, 17 special collections consisting of 36,000 documents, more than 330 chosen scientific works.
/
APA
/