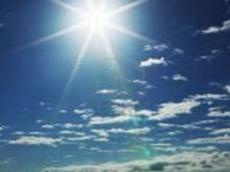 Tomorrow, the weather will be changeable cloudy, and rainless  in Baku and Absheron peninsula. As the National Hydrometeorology Department of the Ecology and Natural Resources Ministry reported the temperature will be 20-22 C at night, 32-34 C in the daytime.
Temperature of the sea water at Absheron beaches will be 21-22 C in Sumgayit, Novkhani, Pirshaghi, Nardaran, Bilgah, 22-23C Zagulba, Buzovna, Mardakan, Shuvalan and 24-25 C in Turkan, Hovsan, Shikh and Sahil.
The weather will be mainly dry in Azerbaijan's regions. East wind will blow. The temperature will be 19-23 C at night, 30-35 C in the daytime, in mountainous 11-16 C at night, 22-27 in the daytime.
/Today.Az/