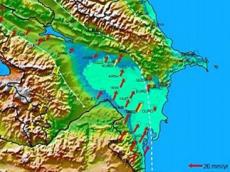 An earthquake measured at a magnitude of 4.0 occurred early Tuesday in Sheki region of Azerbaijan, the National Seismic Survey Centre reported.
Tremors were registered at 1:05 am local time, 10 km west of the city of Sheki.
According to preliminary information, at its epicentre the quake was felt with intensity of 4.5. The earthquake caused no deaths or injuries.
Sheki region is located 305 km north-west of the capital, Baku.
/
Trend
/