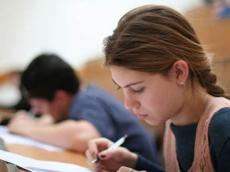 The State Students Admission Commission (SSAC) will hold the second stage of entrance exams to the Master's degree programs of the higher education establishments on June 24 in Baku, Nakhchivan and Ganja, said SSAC Chairwoman Maleyka Abbaszadeh at the press conference today, APA reports.
According to her, the bachelors who will participate in the second stage of the exam, entered the e-applications on June 4-12, chose and confirmed one of the entrance programs in accordance with their bachelor specialties. 8529 bachelors confirmed the entrance programs. 7418 of them are graduates of Azerbaijani sector, 1111 – graduates of Russian sector.
3661 of graduates are boys, 4868 – girls. 5110 graduates finished universities this year, 3419 – in previous years. 7652 bachelors will take exams in Baku, 221 – in Nakhchivan, 656 – in Ganja. 11 examination centers were allocated in Baku for holding exams, 1 center in Nakhchivan and Ganja.
The exam will begin at 13.00 and graduates will have an hour and half for answering the questions. The exam's results will be placed in the4 SSAC's website. After announcement of results, the bachelors will choose the specialty through internet on June 27-29 to participate in the contest of specialization to the Master's degree program of the higher education establishments.
/
APA
/