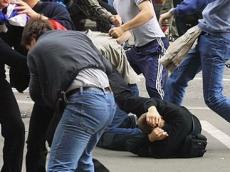 Administrative responsibility will be imposed for beating in Azerbaijan.
A bill amending the Code of Administrative Offences and the Criminal Code has been prepared in this regard.
Amendment to Article 38-1 of the Code of Administrative Offences propose to fine 500 to 1,000 manat for beating or other physical infliction of pain. Fifteen days of arrest can be applied depending on circumstances of the case and individual, who has committed an administrative offense.
In addition, in cases where these actions are described as causing serious, less serious and light attack, the person who committed these acts may be prosecuted according to the relevant articles of the Criminal Code.
The proceedings will be terminated if the sides are able to find reconciliation. The Criminal Code of Azerbaijan will be amended in this regard. It is planned that the new law will come into force from Dec. 1.
/Trend/