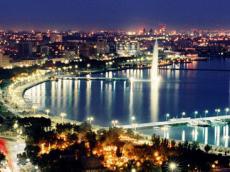 The State Committee for Construction & Architecture of Azerbaijan has presented forecast Conceptual Scheme of the Greater Baku until 2030.
The Committee reports that in 2030 the area of Baku will make 213,000 hectares, adjoining the city of Sumgait – 8,000 ha, and Absheron region – 32,000 ha. At the same time spa and resort zones with area of 300 hectares will appear in Baku, and include in a particular islands Boyuk Zira (Zhiloy) and Gum Adasi. The length of the Seaside National Park (Baku Boulevard) will be as much as 33 km, and include the coastline from settlement Bibi Heybat to the present National Flag Square and from the Government House to settlement Zikh inclusive.
Olympic sports & recreation facilities will occupy an area of 700 hectares and spread out around the Boyuk Shore lake. 700 ha will be allotted for the campuses of higher educational institutions, 1,600 ha for forest parks, 500 ha for parks, 1,550 ha for public infrastructure of culture and recreation, 1,400 for the new low-rise building, 1,000 ha for five-story houses. 
/abc.az/