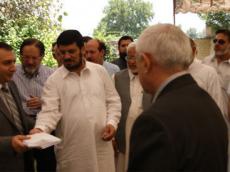 On the initiative of Azerbaijan`s first lady, president of the Heydar Aliyev Foundation Mehriban Aliyeva a series of humanitarian projects are being carried out in various provinces and towns in Pakistan.
As part of these projects Azerbaijani ambassador Dashgin Shikarov visited Thursday the country`s Pakhtunkhwa province.
On behalf of the Heydar Aliyev Foundation, an ambulance, provided with special blood transfusion and small laboratory and 2000 blood transfusion packs were presented to the Hamza Charitable Fund, which includes several hospitals. Safe blood transfusion services will be made with the ambulance to those suffering illness in various towns of the province, particularly remote settlements located on Pakistan`s border with Afghanistan.
Chief of Pakistan Senate`s committee Haji Gulam said the ambulance and packs would contribute to treatment of thousands of people. Haji Gulam praised the fact that this event coincides with 14 June – World Blood Donor Day. The senator thanked the Azerbaijani people and government, particularly first lady.
Haji Gulam also recalled his meeting with President Ilham Aliyev in February this year in Baku. He said fraternal relations between Azerbaijan and Pakistan were developing successfully. The senator also noted Pakistan would never reconcile itself to the fact that 20 percent of Azerbaijani territories are under Armenian occupation.
Then Azerbaijani diplomat visited Pakhtunkhwa eye hospital. On behalf of the Heydar Aliyev Foundation he provided financial aid to the hospital for construction of a new building and operation of people with low income.
Pakistani mass media covered humanitarian projects implemented in Pakhtunkhwa on the initiative of the Heydar Aliyev Foundation.
AzerTAc
/