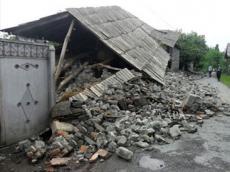 Azerbaijan's Minister of Emergency Situations, Colonel-General Kemaleddin Heydarov visited the quake-affected zone in north-west of Azerbaijan.
According to APA's local bureau, Minister Heydarov visited the most damaged villages of Gozbarakh and Gulluk in Zagatala and Gakh regions and met with the local residents to learn their problems.
Two strong quakes hit Zagatala region of Azerbaijan on May 7. At least 3000 buildings, including private houses and social facilities collapsed or were seriously damaged. AZN 20 million were allocated from the state budget for the elimination of the consequences of the natural disaster.
/
APA
/