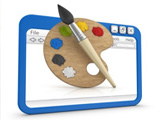 Lifestyle of an individual is getting transformed into new ways by means of growing modern culture. Whichever information we require, is available in different websites. People are attracted and understand the technology through these.
For each and every product or information, there are several websites available. A topic of choice is searched by means of different search engines. Popular searches are arranged according to their ranking pattern. There are ways like creating a site with a clear hierarchy and more text links.

Text links need to be provided to enable a user to get all the details in one shot in the given webpage itself. If there are more text links, those need to be separated into multiple page links. Content of the page should be coined in such a way that it should contain regular keywords that a user searches with, so that the search engine may automatically filter out the result from the designed website.
Giving the website information with images is the best approach but at the same time more images will slowdown the website downloading. A number of fancy features including JavaScript, cookies, frames, session ids and DHTML are hidden from search engine spiders, and hence the website has to be checked with text browser namely Lynx. Testing of websites in different web browsers is mandatory.
If search engine does not want to index everything in the site, keeping a robots.txt is useful, so that search engines will not crawl everything. With respect to quality, having more content rich pages and images will definitely slow down the speed of download. Irrelevant keywords, creating pages with phishing and viruses will make more damage to the website and users will never visit the site. Instead providing unique, appropriate content will give users a reason to visit first.
Reasons and ways to make website attractive:
In case of the website address changes or a page is removed, proper information through 404 pages should be provided.
Professional color schemes that suit according to company business will increase the number of visitors to the website.
Unique content is the king instead of content rich webpage.
The webpage should attract all age groups. Hence appropriate links need to be provided.
Do It Yourself methods with creativity will help the page to be ranked highly.
Webpage designed though content management system should provide a way to design a page that can be crawled by search engines.
Creative design, Effective content management by placing target keywords in heading, title etc., providing link analysis, web crawler, traffic and rank analysis, simple search engine for the users to get redirected to appropriate result and features like free downloads and comparative study between products are the evergreen ways to make a website more attractive.
/Gadget Cage/