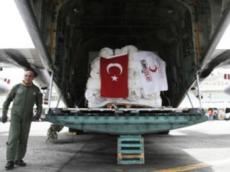 Turkey has sent $350,000 worth of humanitarian aid to the war-ravaged Gaza Strip, which has reeled under an Israeli offensive that has killed more than 2000 Palestinians and injured more than 10,000, Anadolu agency reported.
"This is the second phase of Turkey's aid efforts for Gaza since the Israeli offensive began," Kursat Mahmat, Palestine coordinator for Turkey's international development agency (TIKA), told Anadolu Agency on Monday.
He added that 12 trucks loaded with canned food and other goods would arrive in the beleaguered Palestinian enclave on Tuesday.
"The first part of the aid has already been delivered to Gaza in 20 trucks. Turkey will continue to help the needy in the Gaza Strip," he said.
An aid campaign initiated by Turkish Prime Minister Recep Tayyip Erdogan has managed to raise 45 million Turkish liras (some $20.8 million) for Palestinians in the bombed-out Gaza Strip.
Mahmat said the trucks would enter the coastal territory through the Kerem Shalom crossing - the only entry point for commercial and humanitarian goods from Israel into Gaza.
Palestinians and Israelis are now observing a five-day ceasefire, brokered by Egypt, which will expire at midnight Monday.
The ceasefire came following more than a month of devastating Israeli attacks on the besieged strip, which have left more than 2000 Palestinians dead - the vast majority of them civilians - and more than 10,000 injured.
At least 64 Israeli troops, meanwhile, have been killed in combat in the Gaza Strip, while three Israeli civilians were killed by rockets fired from the Palestinian enclave.
Last week, 18 injured Gazans were airlifted to hospitals in Turkey - including a pregnant woman and five children - for medical treatment.
Since 2007, the Gaza Strip - home to some 1.8 million Palestinians - has reeled under a crippling Israeli blockade that has badly affected the local economy and wrought havoc on residents' livelihoods.

/Trend/