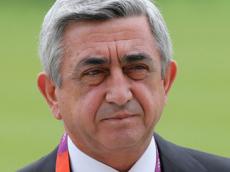 Armenia will join the Customs Union within the borders recognized by itself, according to Armenia's President Serzh Sargsyan.
Sargsyan made the remarks in an interview with Armenian Public TV Channel, the ARKA agency reported.
Commenting on Kazakh President Nursultan Nazarbayev's statement in Astana, the Armenian president expressed bewilderment, why the statement was a surprise for many people.
During a meeting of the Supreme Eurasian Economic Council held on May 29 in Astana, President Nazarbayev said that the provisions should be extended to Armenia's territory within its international borders, recognized by the UN.
Armenia's intention to join the Customs Union and participate in the formation of the Eurasian Economic Union was announced following the talks between Armenian and Russian Presidents, Serzh Sargsyan and Vladimir Putin on September 3, 2013.
A roadmap for Armenia's accession to the Customs Union was approved on December 24, 2013 in Moscow at a meeting of the Supreme Eurasian Economic Council.
Armenian government published the "road map" on Feb. 3.
The conflict between the two South Caucasus countries began in 1988 when Armenia made territorial claims against Azerbaijan.
As a result of the ensuing war, in 1992 Armenian armed forces occupied 20 percent of Azerbaijan, including the Nagorno-Karabakh region and seven surrounding districts.
The two countries signed a ceasefire agreement in 1994. The co-chairs of the OSCE Minsk Group, Russia, France and the U.S. are currently holding peace negotiations.
Armenia has not yet implemented the U.N. Security Council's four resolutions on the liberation of the Nagorno-Karabakh and the surrounding regions.

/Trend/