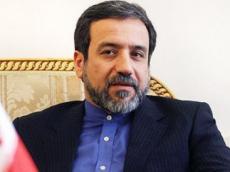 Iran has clearly warned the United Nations Under-Secretary-General for Political Affairs, Jeffrey Feltman that any intervention in Syria would cause hard consequences not only for the country itself, but the whole region as well, Iran's Foreign Ministry spokesman Abbas Aragchi said at the press conference, IRINN reported live.
Yesterday it was reported that Feltman met Iranian Foreign Minister Mohammad Javad Zarif during his visit to Tehran, and the sides have discussed regional issues including latest developments in Syria.
"Feltman's visit to Iran has nothing to do with his nationality or diplomatic duties of the past," Aragchi said. "
Feltman's visit to Iran coincided with the visit of Oman's Sultan Qaboos bin Said Al Said to Iran. Some media outlets reported that the objective of Sultan's visit to Tehran is to mediate between Iran and the United States.
"Feltman's and Sultan Qaboos' visit to Iran is purely coincidental. Feltman's trip to Iran is connected with regional processes, especially the one in Syria," Araqchi said.
/Trend/