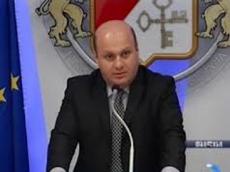 Georgian Finance Minister Nodar Khaduri has met with representatives of small, medium and large businesses on Monday.
"It is almost impossible to build an economically strong state without cooperation with businesses. Business enterprises are ready for this, they hope for beginning of an irreversible process of economic recovery," Khaduri said.
He said businessmen declare their readiness to increase investments and the number of employed.
"The matter rests in the current reality in Georgia, and the ways and attitudes of the new government to address the situation, including on tax legislation," the minister said.
As Khaduri stated, interesting proposals were put forward by head of one of business associations.
"We have regular contact with them. We are ready to discuss all issues at the meetings. Our main goal is cooperation," he said.
At the meeting, Nodar Khaduri informed the members of business associations about the government's economic policy, one of the main priorities of which is liberating business from government interference.
"The country has no privileged businessmen. The law is one for all, as well as conditions for fair competition in the market," Khaduri said.
A similar meeting with Adjara businessmen was held in Batumi

/Trend/