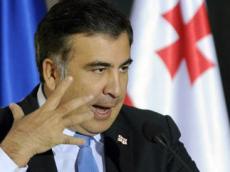 As head of state, Mikheil Saakashvili shares responsibility for police inaction. The President said this in his residence in Tbilisi while presenting the report, which he was to deliver in parliament.
"This does not happen in any democratic country. Diplomatic corps is here. I want to apologize to them for being late and for the aggression that was shown towards them. I apologize on behalf of the state, because I am the head of this state and I share the responsibility for the police actions or even police inaction in this case. However, you should agree that there is no democratic country where president is prohibited from speaking in parliament or even coming out of his residence, " Saakashvili said.
Mikheil Saakashvili was to deliver a speech at the National Library. A crowd of former political prisoners and their supporters which gathered in front of the building did not allow MPs to enter the National Library.
Half an hour before the members of the parliamentary minority and Tbilisi mayor Gigi Ugulava were attacked by the crowd. Some of them were injured.
Interior Minister Irakli Garibashvili arrived to the scene and tried to calm the crowd, calling the protestors to respect and keeping order.

/Trend/