If someone would want disputes between Baku and Tehran in the Bushehr issue, the goal would never been achieved.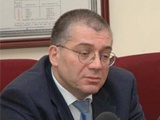 The due announcement was made by Azerbaijan's Deputy Foreign Minister Araz Azimov, according to Novosti-Azerbaijan.
He said the Iranian ambassador to Azerbaijan Nasir Khamidi Zare will soon be invited to the Azerbaijani Foreign Ministry to give explanations regarding the requirements, Iranian Foreign Ministry set to Azerbaijani side, due to the detention of cargo, destined for the Bushehr NPP construction.
"I hope this issue will be settled in a duly manner. If Russia intends to transport the said cargo via Azerbaijan, it should present documents from the sender, regarding the parameters of the said cargo, considering its specificity.
This is a simple question, however, Russia does not present due documents and at the same time demands from Azerbaijan to release the said cargo", said he.
"We do not understand this attitude as there are international rules and laws. Why should we close eyes on it? If Russian embassy receives an answer from Moscow and presents it to the Foreign Ministry of Azerbaijan, the issue will probably be settled soon", said the deputy minister.
He noted that no talks are currently held on the issue.
"The representatives of the Atomstroyexport have spread information about arrest of cargo via mass medias and after that caused a stir around this issue. However, no steps are currently being undertaken", Azimov concluded.