"Not leadership of Milli Majlis (MM), but parliamentarians themselves introduce their assistants," the chief of MM press service Akif Nasirov said.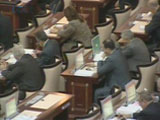 He said that the facts that MM imposes pressures on parliamentarians on choosing their assistants are groundless.
Nasirov said that election process of the assistants continues. According to him, the assistants will work in election districts and will mediate between parliamentarians and electors, APA reports.