"OSCE should not agree with unsettled and frozen conflicts in Post Soviet countries," Frank-Walter Steinmeier, German Foreign Minister said in the meeting of OSCE Permanent Council, OSCE Vienna office told.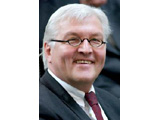 The Minister chairing the European Union since January 1 stressed the importance of the settlement of Nagorno Karabakh conflict.
"We call to the parties to profit from OSCE mediation in the settlement of the conflict. The EU will help the countries ready for constructive dialogue," he said.
Frank-Walter Steinmeier said that OSCE and the EU should cooperate in the regions like Kosovo and Central Asia.
He said the EU will follow OSCE practice on the issues of democracy, human rights, economic development and ecological issues, APA reports.