0.005% of the UN budget will be provided by Azerbaijan.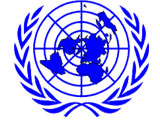 As APA informs, 22% of the UN budget for 2007-2009 will be formed at the expense of the U.S. payment. Russia has to pay 1.2% of the UN expenses.
Membership fees of Ukraine and Kazakhstan have been increased. These countries will transfer 0.0039% and 0.0045% of the whole budget to the UN account.
According to APA, the countries not paying membership fees are automatically deprived of the right to vote in the General Assembly. The UN budget is $1.3bn.