Azeri Embassy in Tehran does not respond.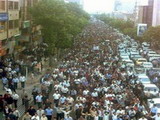 Iran police used tear gas and bullets in dispersing rally held in Tabriz on May 20 as a result of which 20 killed, more than 100 injured.
Police did not allow occupying Azerbaijan Milly Majlis, 1945, and present Tabriz city government house, West Azerbaijan National Revival Movement Baku bureau has told APA.
The hospital where injured are kept, has been blockaded by the police. Guard forces taken to city to calm down the rally attacking student hostelhave arrested about 100 students. Slogans were sounded in the meeting: Tabriz lives despite Babek's death, Azerbaijani hero, Chohragani, Garabagh is ours, and Turkic language will not be substituted with Persian language.
Today at 1600 meetings were scheduled in Tabriz, Urmiya, Maraga, and Miyane.
Ogtay Tabrizli reports from Tabriz to APA that assembling of residents are not allowed. He said that as a result of clash in the meeting numerous people died, their number is not definite yet.
Today Whole Azerbaijan Party has issued a statement on Iran's policy pursued in West Azerbaijan. The statement applies to international organizations to give support of democratic fight of our compatriots living in South Azerbaijan. Tehran act under the mask of Islam mask. World Azerbaijanis Congress (DAK) has expressed attitude to the event. DAK called on Azerbaijanis not to withdraw from the struggle, and stated that operative headquarter has been established in Baku bureau related to the happened events.
It was impossible to learn opinion on the bloody clashes, from Iran Embassy in Azerbaijan, and Azerbaijan Embassy to Iran.