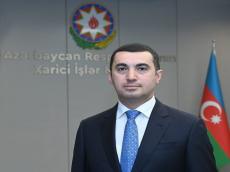 Spokesperson for Azerbaijani Foreign Ministry Aykhan Hajizada commemorated the memory of the victims of the Bashlibel massacre, Azernews reports per the official's tweet.
"On this day, we remember all innocent victims of Armenian war crimes & crimes against humanity with grief & sorrow, & demand justice for them," he tweeted.
To recap, on April 3, 1993, the armed units of Armenia attacked Kalbajar District's Bashlibel village. 62 civilians who could not manage to escape before the attack took refuge in a cave in the mountains located about 3 kilometers from Bashlybel. Having plundered the village, the Armenians burned it down but were dissatisfied with the result, as they failed to satisfy their thirst for blood. The invaders went in search of the fleeing villagers, realizing that they would not be able to go far since Kalbajar was already occupied.
On April 18, the hideout was discovered. The Armenians killed 12 people, mostly children, women and the elderly. 14 people were taken hostage. Subsequently, the hostages were released, but as a result of the psychological trauma experienced, most soon died.